Last December, MBC's Hangout with Yoo program donated to ourmenstrual product support program.
We recently received an update on how the donation was spent and I would like to take you through the journey.
This menstrual product support project reached 100 people who recently left orphanages and 100 single mother families.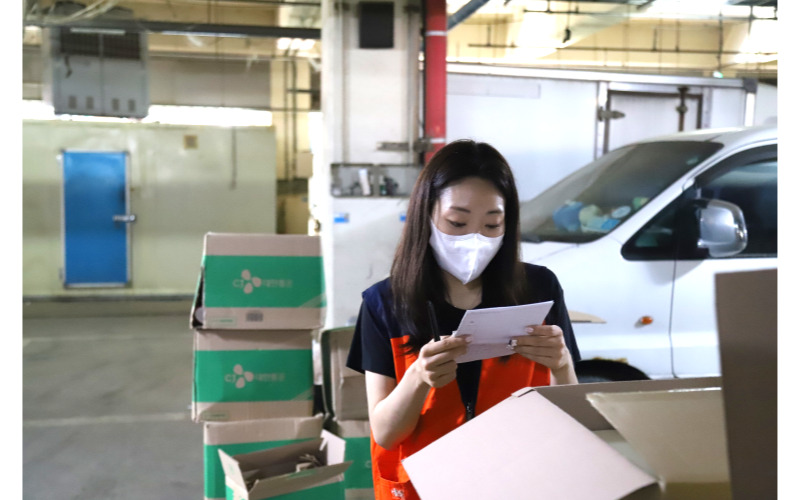 This product support was special in that it not only included menstruation products,
but also other various items families need in their every day lives.

It included menstruation products such as 6 months' worth of sanitary pads, heating pads, waterproof underwear,
feminine wash and everyday items such as bras, masks, make-up and shampoo, bags and watches!

We make this kit with our partner organizations and they were so impressed by the thoughtful gifts prepared.
"They will feel so much joy receiving this!"
"I want it as well!"

Look at the pile of boxes ready to ship!
The kids have to spend so much money on buying furniture and daily necessities right after they leave the orphanage.

This is a huge burden for them.

All these products we use every day might seem insignificant, but it means so much to the kids.

They also appreciated receiving items they never would have though to buy themselves.

All this support and love gives a positive influence to the kids and a great boost to finding their way to independence.

-Orphanage Manager-

The mothers were grateful to receive such various types of products.

It really helped their households financially.

-Single Mother Facility Manager-
Women can lift their worries about sanitary pads for a while, and the extra gifts were a plus to making their lives full.
GFoundation always wants to send your love and care as much as we can.
We will continue to find and support people who are in need of help.
Thank you 'Hangout with Yoo' once again for donating to us and giving hope to people