Two powerful earthquakes taking over the lives of Turkiye and Syria
February 6th, 2023 04:17. Turkiye and Syria will remember this day and time for a very long time.
Earthquake magnitudes of 7.8 and 7.5 and aftershocks.
Buildings collapsing and people screaming in fear.
Soon after the screams turned to anxious voices of people trying to find their families and friends.
Over 19,000 people have already died so far and more than 86,000 injured.
The number of people displaced can't be even measured.
Hundreds of aftershocks are continuing to come.
People lost their families, homes, businesses, and everything they had in a single day.
With fear overwhelming, the people don't even have enough room to process sadness.
WHO expects more than 230 million people to affected, which is almost a third of Turkiye's entire population.
Time is ticking and survivors under the ruble don't have enough time.
Rescuers all over the world are trying to save as many lives as they can,
but harsh weather with wind and snow are delaying the operations.
People digging for their families with their bare hands.
One of the reasons why this earthquake had so many casualties is because people weren't ready to respond.
04.17 am. People were struck in their sleep with no time to escape.
In addition, southern Turkiye and northern Syria, where the earthquake occurred,
are areas where there have been no major earthquakes in the past few years.
Compared to other regions, the earthquake-resistant design of buildings and structural infrastructure were not well equipped, leading to greater damage.
"We are left in the dark with no help.

It's been 19 hours since the earthquake and

Grandpa and Grandma are still trapped under the rubble."

-Earthquake survivor from Turkiye -
Survivors went as far as to digging with their bare hands despite the freezing cold weather
to save their families, friends and lovers who could not get out of the rubble.
People lost their loved ones and their livelihoods in a matter of hours.
Turkiye needs a helping hand now.
​GFoundation dispatched an emergency relief response team for
the people who are still in fear enduring the cold weather and processing trauma.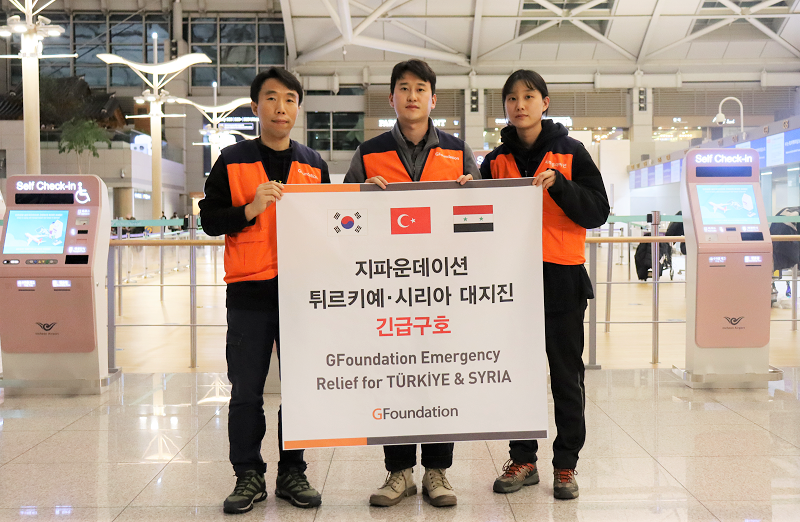 The emergency relief response team plans to respond with
urgently needed items such as drinking water, food, blankets, and tents, etc.
What we can do for them is pray and support as much as we can.
Please join us in comforting families in fear and shock.
Your help is what will bring them back to hope.